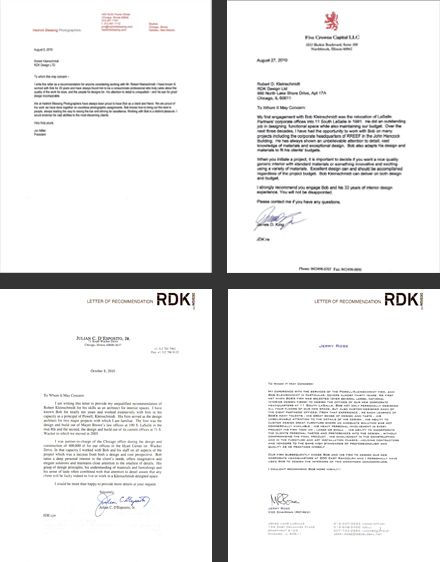 1. August 5, 2010
Robert Kleinschmidt
RDK Design LTD
To whom this may concern:
I write this letter as a recommendation for anyone considering working with Mr. Robert Kleinschmidt. I have known & worked with Bob for 25 years and have always found him to be a consummate professional who truly cares about the quality of the work he does, and the people he designs for. His attention to detail is unequalled - and his eye for great design incomparable.
We at Hedrich Blessing Photographers have always been proud to have Bob as a client and friend. We are proud of the work we have done together on countless photographic assignments. Bob knows how to bring out the best in people, always leading the way to raising the bar and striving for excellence. Working with Bob is a distinct pleasure. I would endorse his vast abilities to the most discerning clients.
Very truly yours,
Jon Miller President
2. August 27, 2010
Robert D. Kleinschmidt
RDK Design Ltd
To Whom It May Concern:
My first engagement with Bob Kleinschmidt was the relocation of LaSalle Partners' corporate offices into 11 South LaSalle in 1981. He did an outstanding job in designing functional space while also maintaining our budget. Over the next three decades, I have had the opportunity to work with Bob on many projects including the corporate headquarters of RREEF in the John Hancock Building. He has always shown an unbelievable attention to detail, vast knowledge of materials and exceptional design. Bob also adapts his design and materials to fit his client's budgets.
When you initiate a project, it is important to decide if you want a nice quality generic interior with standard materials or something innovative and exciting using a variety of materials. Excellent design can and should be accomplished regardless of the project budget. Bob Kleinschmidt can deliver on both design and budget.
I strongly recommend you engage Bob and his 33 years of interior design experience. You will not be disappointed.
Please contact me if you have any questions.
James D. King
3. Jerry Rose
To Whom It May Concern:
My experiences with the services of the Powell/Kleinschmidt firm, and Bob Kleinschmidt in particular, covers almost thirty years. We met first when Bob's firm was selected (over several large, national interior design firms) to design the offices of our new corporate headquarters at 11 South LaSalle. Bob not only personally designed all four floors of our new space, but also custom-designed each of the eight partners' offices. From that experience, we each learned of Bob's many talents; his great sense of design and taste, his unbelievable attention to the details of his design, his ability to custom design great furniture where an adequate solution was not commercially available, his heavy personal involvement in every project his firm took on, large or small, his ability to incorporate the client's personal tastes and preferences into the design without compromising the final product, his involvement in the construction and in the furniture and art installation phases…Holding contractors and vendors to the same high standards of professionalism and quality as he practices himself.
Our firm subsequently chose Bob and his firm to design our new corporate headquarters at 200 East Randolph and I personally have used Bob to design the interiors of two downtown condominiums.
I couldn't recommend Bob more highly!!
Jerry Rose
Vice Chairman (Retired)
Jones Lang LaSalle
4. October 8, 2010
Julian C. D'Esposito, JR.
71 South Wacker Drive
Chicago, Illinois 60606-4637
To Whom It May Concern:
I am writing this letter to provide my unqualified recommendation of Robert Kleinschmidt for his skills as an architect for interior spaces. I have known Bob for nearly ten years and worked extensively with him in his capacity as a principle of Powell, Kleinschmidt. His firm served as the design architect for two major projects with which I am familiar. The first was the design and build out of Mayor Brown's law offices at 190 S. LaSalle in the mid 80s and the second, the design and build out of his current offices at 71 S. Wacker to which he moved in 2005.
I was partner in charge of the Chicago office during the design and construction of 400,000sf for our offices in the Hyatt Center on Wacker Drive. In that capacity I worked with Bob and his staff on all aspects of the project which was a success from both a design and cost perspective. Bob takes a deep personal interest in the client's needs, offers imaginative and elegant solutions and maintains close attention to the smallest of details. His grasp of design principles, his understanding of materials and furnishings and his sense of taste when combined with that attention to detail assure that any client will be lucky indeed to live or work in a Kleinschmidt designed space.
I would be more than happy to provide more details at your request.
Sincerely,
Julian C. D'Esposito, Jr.